New spot from The Monkeys Aotearoa for realestate.co.nz
VIEW THE SPOT
TBWASpain has created this new "The Burger That Could Not Be" campaign for McDonald's.
VIEW THE SPOT
Cadbury Fingers, the iconic shareable biscuit brand loved by families is today launching a new integrated campaign, together with agency of record VCCP London. The latest chapter of its 'For Fingers Big and Small' campaign series, 'Sign with Fingers Big and Small' encourages people across the nation to learn some British Sign Language to help people come together. Created in partnership with the National Deaf Children's Society, the latest campaign highlights the difference British Sign Language (BSL) can make in helping deaf BSL users feel included in shared moments. Cadbury Fingers are made for when everybody comes together, yet many in the deaf community report feelings of isolation and exclusion in the kinds of shared moments that Fingers are made for.
VIEW THE SPOT
Little Caesars was selected as the official NFL pizza sponsor in June 2022 for a five year partnership. To kickstart the partnership, McKinney, Little Caesar's AOR, created a spot that tapped into NFL fandom in true Little Caesars fashion a little over-the-top, a little crazy, and a lot funny. McKinney has leaned into Little Caesar's "crazier than most" brand position which comes through in this work. The spot also brings star power in the form of Matthew Stafford, quarterback of the Super Bowl 56 winning team the Los Angeles Rams.
VIEW THE 30 sec SPOT
VIEW THE 15 sec SPOT
Four Seasons Hotels and Resorts today unveiled its new brand creative platform, Luxury Is Our Love Language, celebrating the brand's unique and energetic perspective on the definition of luxury. Developed by Publicis Groupe's NYC-based creative collective, Le Truc, the work highlights the exceptional experiences delivered only by Four Seasons through the deep understanding of their guests and the genuine care of their people.
VIEW THE SPOT
What do Leonardo da Vinci and a clever cat have in common? They are both the stars of Samsung's new launch campaign for their next generation of ground breaking foldable smartphones: Galaxy Z Flip4 and Galaxy Z Fold4. The pair of playful spots, produced by Ogilvy New York, leaves viewers entertained with unforgettable perspectives on just how much potential these pioneering phones have.
VIEW THE MULTITASKING SPOT
VIEW THE FULL VIEW SPOT
BBDO Bangkok and Mum Films have collaborated with the Thai Health Promotion Foundation to create this "The Experimental" campaign warning Thai's of the emerging health risks of e-cigarette, which are gaining popularity among youths with their contemporary appearance and selection appealing odors and flavours. Information which was presented in research that was published by the Korean Society of Toxicology has shown E-cigarette toxicity affects brain cognitive memory functions and inflammatory responses in mice.
VIEW THE SPOT
Saatchi & Churchill take you to the 'Chillscape'. Churchill's iconic mascot 'Churchie' leads the creative, introducing his very own blissed-out world, the 'Chillscape'. The campaign is a marked evolution of the brand platform, reimagining the promise to deliver chill to all the insurance firms' customers. Bring Chill to the Nation shifts the perspective on what quality insurance means to people.
VIEW THE SPOT
The brand linked to gaming in Peru is Cifrut, an orange-flavored drink that invites you to live your passion "intensely". And this August 29, being the International Gamer's Day, he had to express himself and he did it with prints that are windows to those worlds of color and emotion that connect us from a console, a computer or a mobile. Live the day of the gamer intensely with Cifrut.
VIEW THE FORTNITE AD
VIEW THE DOTA AD
VIEW THE FIFA AD
After years of pandemic postponements, wedding bells are ringing louder than ever in 2022. But this wedding season has been marked by a scramble to secure venues and vendors, leaving many couples disappointed. That's why Harry Rosen, Canada's leading luxury menswear retailer, launched their Marry Rosen contest to help one lucky couple celebrate their wedding in style.
VIEW OUTDOOR
Shooting Stars a not for profit organisation inspiring a sense of pride, belonging and a vision of a positive future for Aboriginal girls and women has unveiled an inspiring new campaign via 303 MullenLowe Perth. It was co-created in its entirety with program participants, their mentors and a host of local Aboriginal artists, designers and music producers.
VIEW OUTDOOR
Do you know the difference between a 3, 4 or 5 star hotel? What if you could choose an option with 5 billion of them? With this new hotel you get benefits such as sleeping under a starry sky, high up in the mountains and having more animals than humans as neighbors (there are only 5 tents with room for 2 people in each). The hotel staff points out that "all the units have a view of the mountains, at the end of the day the view is to the sunset and at night to the billions of stars."The brand experience was born from research between Cerveza Patagonia and Pinterest that showed an increase in searches for images of nature, sunsets, an 81% increase in searches for cabins and 7 times more searches for ground fire barbecue.
VIEW OUTDOOR
To launch HBO's much anticipated prequel to Game of Thrones, House of The Dragon, the Targaryen's dragons arrived in Melbourne, and their fiery destruction was felt at a local footy game.
PLAY THE SPOT
To challenge people's perception of palliative care, we decided to use a well-known audio disclaimer, followed by a real slice-of-life audio recording of someone in palliative care. The twist? It's not what you're expecting.
PLAY THE SPOT
As all eyes turn to the U.S. Open this week, Morgan Stanley has debuted the TV spot "See It To Be It" featuring brand ambassador and 19-year-old tennis phenom Leylah Fernandez.In the spot, airing on ESPN, Fernandez encourages a young girl to succeed and become an inspiration for someone.
VIEW THE SPOT
Associacao Abraco is a Portuguese NGO that was born in December 1991 from the work carried out by a group of volunteers with the aim of promoting and improving hospital conditions and supporting, at a psychological, social and material level, people infected with HIV/AIDS and their families in Lisbon (Portugal).
VIEW THE RITA SPOT
VIEW THE MARIO SPOT
VIEW THE HUGO SPOT
With an extensive retails network, interconnected health services and more than 75 years' experience insuring Australians, only Bupa can prepare you for all life's ups, downs and up agains.
VIEW THE SPOT
Wieden Kennedy, London has released this campaign for British challenger bank, Revolut.
VIEW THE SPOT
Latto is giving ROYALTY in her special 2022 #VMAs performance, presented by Burger King! #RULEYOURBEAT.
VIEW THE SPOT
Serena Williams has shown us the power of love for yourself and everything you do. Her self belief has been an inspiration to everyone, but especially young women of color. She has started a movement to realize that you can do anything if you have self-love.
VIEW THE SPOT
ESPN recently announced its latest creative campaign, 'The Greatest Story Ever Played,' promoting the 2022 college football season on ESPN. A collaboration with Arts & Letters, the campaign highlights the sentiment surrounding great college football stories on and off the field and the variety of ways the sport captures the attention of fans. The creative launched across ESPN networks Saturday, Aug. 27, debuting during ESPN's College GameDay Built by The Home Depot preview show.
VIEW THE SPOT
Two of the world's coolest brands, LEGO and Nitro Circus, have come together in a high-adrenaline integrated partnership delivered by Initiative and Mediabrands Content Studio. To promote its LEGO CITY Stuntz range, LEGO partnered with the kings and queens of extreme, Nitro Circus, for its 2022 Australian tour.
VIEW THE SPOT
VIEW THE TEASER CONCEPT
In collaboration with creative agency FRED & FARID Los Angeles, Luxury Stores at Amazon releases their fall brand "Luxury, With a Smile". Luxury Stores at Amazon is leading luxury fashion's shift from an elite and exclusive club to an accessible and convenient resource for discovery, self expression and innovation now with a smile. The full campaign, comprising 42 still photos and 14 films, was produced by the renowned directors and photographers Cass Bird and Andrew B Myers. With joyful on-figure photography and films by Cass Bird, and product-forward mini sets depicting iconic European cities by Andrew B Meyers,
VIEW THE SPOT
With over 13,000 tax jurisdictions in the United States, an ever-changing array of tax laws and a myriad of special case scenarios, remaining tax-compliant can be a major source of stress for businesses. Most either don't know tax compliance automation exists or don't believe they need it, sticking to manual processes within their finance departments which can be a time-consuming, anxiety inducing minefield for employees. Avalara's software automates tax compliance processes, freeing businesses of the daunting task of tax compliance and giving them one less (big) thing to worry about.
VIEW THE SPOT
Tomboy, of Greenpoint Pictures, directs a visually stunning short film for San Francisco design company FRYN, 'The New Shape of Craft.' In exploring the space and innovative system of furniture manufacturing at Fyrn
VIEW THE SPOT
This is Isla Day. Biomedical science student, dreamer and rider of bikes. You'll find her discussing the dry year problem on a ministry reference group, or investigating the immunosuppressive products of sea sponges, or coaching 7-year-old mountain bikers.
Since 2004, Hyundai's Pinnacle Programme has identified young New Zealanders with potential and prepared them for success, here and on the world stage.
Agency: String Theory
VIEW THE SPOT
Iris has launched its latest integrated brand campaign for Starbucks UK, ''Every Table Has a Story'' which aims to reinstate Starbucks as an inclusive and inspiring 'Third Place' where all are welcome to work, reset, connect and further their passions. As the nation embraces newfound flexibility, there has been a renaissance in working from coffee shops. For younger generations who's career prospects have been hit the hardest in the wake of the pandemic, providing space for them to forge their own path is particularly important.
VIEW THE SPOT
The Badger Agency announces the launch of its second vivid spot in the CALIA 'I Choose What Fits' campaign. The work features the four CALIA brand ambassadors: wellness entrepreneur Hannah Bronfman, actress Dascha Polanco, golf journalist Alexandra O'Laughlin, and gymnast Shawn Johnson East. CALIA is the activewear brand that fits your life. The Fall campaign launches August 21st and highlights members of the CALIA Collective actively moving throughout New York City.
VIEW THE SPOT
O2 is today launching 'Switch-up-to-new when it suits you' a new integrated campaign, together with agency of record VCCP London, to celebrate O2 giving its customers more freedom to flex their plan and swap their phone at any point in their contract, as many times as they'd like.
VIEW THE SPOT
Kelvin Jones has directed a music promo for 'My G' ft Ed Sheeran, a song from the recently released, debut album of young British rapper, Aitch. The 3,42'' music promo was directed through the London based production house, KODE, with the majority of the video budget donated to the Down's Syndrome Association. The stripped-back promo centres around Aitch writing a letter to his younger sister, Gracie, reflecting on their relationship and the love he has for her. Featuring artist Ed Sheeran as an animated illustration, the award-winning singer-songwriter sings the lyrical verses of the song.
VIEW THE SPOT
A child's bed is the canvas of their dreams. Sheridan's Kids thoughtfully made collection has been designed to last a lifetime of dreams. An animated campaign from FabricTBWA launches the new range by bringing to life a story imagined and narrated by children. The animation, developed in collaboration with Yukfoo, depicts the characters of the story emerging from the patterns and textures of the Sheridan bedding, enacting the tale as it's told.
VIEW THE SPOT
In the face of Kuwait's booming gourmet scene, Burger King Kuwait decided to launch a premium gourmet range of its own, the Golden Edition. As a QSR, to stand out in the premium gourmet category, Burger King knew it had to do more than rely on foodies or food influencers to put them on the scene. To go one step further, Burger King shifted the narrative from everyday foodies to niche experts in premium goods that the local market could relate to: the gold experts from Kuwait's gold souk, the true judges of the gold standard.
Agency: M&C Saatchi Abu Dhabi
VIEW THE SPOT
Peaky Blinders actor Cillian Murphy stars in Wieden + Kennedy, Amsterdam's latest campaign for Montblanc. ''As long as you're headed towards what moves you, you're on the right path.''
VIEW THE SPOT
To showcase how every single day at school is a big day, and to raise awareness that right now, almost half the children across the country are not attending regularly.- Every School Day is a Big Day. Our akonga (students), kaiako (teachers), parents, and principals became directors and TV stars to help launch a nationwide school attendance campaign. Filming and submitting their own mobile footage, all on the same school day, showed how important every moment in a school day is.
Agency: Stanley St
VIEW THE BRAND SPOT
VIEW THE SOCIALISING SPOT
VIEW THE WHANAU SPOT
VIEW THE LEARNING SPOT
Engine Creative is launching a humorous VOD and social campaign for Greene King's Ice Breaker pale ale showing that the brand won't help people to break the ice in social situations. It's just a great tasting beer, filled with hoppy goodness. Aiming to build recognition and awareness of the craft beer and give it a memorable identity, the campaign called ''It's Just A Name'' consists of three films which shed light on the highs, lows and awkwardness of social situations.
VIEW THE SHAKE IT OFF SPOT
VIEW THE INNER CIRCLE SPOT
Our goal is to increase sales of LaFonte by changing the target audience's perception of Pasta which indicates as expensive, identical to western and occasional dishes, into the familiar dishes that can be confidently cooked and consumed in their daily life. The key performance areas we want to calculate are our sales (turnover), perception, and consideration through the user-generated content of the audience's unique Pasta recipes.
Agency: Popcult Group
VIEW THE SPOT
Doritos - the iconic triangle-shaped chip brand - is taking the basic triangle to Another Level with Triangle Tracker, a nationwide hunt where any triangle can unlock exclusive experiences and rewards. A first-of-its-Kind Snapchat AR Lens Allows Consumers to Scan Any Triangle in the Real World for a Chance to Win $250,000, exclusive prizes from GUESS Originals, Xbox, Vivid Seats, and more.
Agency: GSP and TMA
VIEW THE SPOT
HOKA, the shoes and apparel brand built by runners for runners, unveils a new campaign that makes the most difficult race in the world, UTMB, accessible and inspiring to all runners. Ogilvy UK created 'The Fearless Kilometre' Strava Event, allowing members of the world's largest social network for athletes to get a taste of elite trail running and raise money for charity. UTMB is one of the most challenging extreme courses in the world, HOKA are challenging all runners, of all abilities, to experience a piece of the UTMB journey with the Fearless Kilometre.
VIEW THE CONCEPT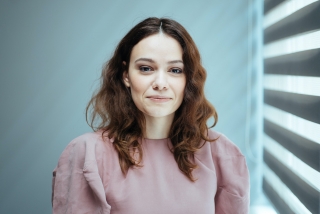 This week's Bestads judge is Roxana Nita, creative director, DDB Romania.
Winner: The Lowdown '
How to Do Nothing - Cars
'. I love it, it's funny, warm and authentic and it gets the message across in a memorable way. I appreciate humor done right when it comes to social causes.
READ MORE
The Simpson Cup is the equivalent of the Ryder Cup for wounded servicemen. It pits 13 wounded veterans from the US and Great Britain in a tournament held every year at some of the world's most renowned venues, with proceeds benefiting the On Course Foundation. At this year's Simpson Cup, to be held August 30th at the Baltusrol Country Club in Springfield, NJ, the MR. MA fashion apparel maker will debut the 'One-Armed Hoodie – an item made especially to demonstrate support and pride for injured golfers. Fifty 'One-Armed Hoodies' will be made available to competitors and influencers this weekend, with hundreds more to be shipped around Veteran's Day. Proceeds from sales of the hoodies will go to the Simpson Cup and to make custom apparel for other injured golfers. But more importantly, it is hoped that wearing the One-Armed Hoodie will become a way to proudly support these injured veterans. The One-Armed Hoodie was created by Episode Four, a boutique hybrid marketing agency whose idea it is to turn the hoodie into a symbolic expression of support. It can be purchased for $100 here.
VIEW THE CONCEPT
« First « Previous
Next »
Last »
1 of 7
Gold
sponsors
Silver
sponsors
Search
blog
Members
Past guest
reviewers
Latest
news
Blog
categories
Blog
archives
RSS
feed

Visit Campaign Brief for Australian creative
advertising news