Good work is new. And stretches the labels we all have for what we make.
BEST TV
Best TV ad of the week?
Potty mouthed princesses
go hard in a new category of well produced social content, as does the snort laugh
Air New Zealand safety video
featuring an orc in an oxygen mask. Although the initial idea of entertaining safety videos started elsewhere, both of these have a real go at redefining what it is we all create these days and I love them for it.
All that said though, sometimes there's room for something that just takes the medium to task and showcases it at its best.
Nike's Together
is an advert. A really good one. 'Hard work on 3, Together on 6' will be yelled in bars, recanted on courts and salivated over in creative departments for months to come. I didn't want to like a fist pump team talk ad, but this is goosebump juice. Skills.
BEST PRINT
That talk of redefining categories sadly doesn't apply in print where there is the usual clash of ads that actually came from a brief and ads written for awards.
Guinness
is sweet, the
Amnesty rose
tops it with a wince for me though, helped by the potent issue it raises.
BEST OUTDOOR
The outdoor category somehow gives us the brilliant
Hollaback!
Less of the expected poster made of grass and more an excellent social observation piece that's already got a bijillion views globally. There's lots to learn from in how potty mouth princesses and 10 hours as a woman grow and succeed in the social space, and big brands looking to create meaningful social marketing should study the mechanics and tricks of work like this.
BEST INTERACTIVE
Lastly,
Joey Starr and Lickshot
ambushing people from porn websites to promote their new track is a real digital gem for me. Sometimes great digital can be incredible new technology or a new use of a platform we thought we understood but I love this idea for playing where it shouldn't, and hijacking the vastly popular but politely ignored world of rank French porn. A new use of the oldest pleasure.
The real delight in all of this is that the categories are blurring. The labels are broken in a beautiful way. Whether we're making inflight virals or socially fuelled recruitment campaigns there has never been a more varied and exciting canvas to mess with.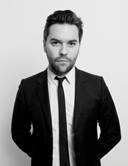 This week's guest judge is Nils Leonard, executive creative director at Grey, London.
At 36 years old, Nils Leonard is one of the youngest executive creative directors in the world to run a top five agency. And in the past six years, Leonard has overseen the most profitable and creatively awarded years in Grey London's 50 year history.
In this time the agency has doubled in size, and as well as being awarded numerous accolades including Adweek's global agency of the year 2013, Grey London picked up the infamous Cannes Black Lion for its globally recognised work on The British Heart Foundation.
With his vision to impact culture, the agency is also one of very few global agencies to be awarded outside of its industry, picking up a British Comedy Award alongside British comedienne Victoria Wood for The Angina Monologues, a comedy that aired on Christmas Day to an audience of seven million.
Leonard began the transformation of Grey London with a spate of work including the globally recognized Spacechair for Toshiba and Lucozade's Louder campaign which brought dubstep to the masses and created the most pre-sold single on iTunes ever. More recently, Leonard penned the emotive Kiss for Vodafone, voted Marketing magazine's most romantic ad of all time. His latest work for McVitie's is famous the world over, with Time magazine calling it 'the cutest thing ever put on television'.
Leonard's career also includes running a design consultancy for high profile fashion and music clients and creative roles at some of the advertising industry's most respected agencies. Leonard's untraditional design background also informed the remarkable cultural change at Grey London, which saw the controversial removal of agency conventions such as the sign off system and offices for senior members of staff. He also approves of his creative department following their interests outside of the industry, believing that enabling the dreams of the talent he works with is the only way to fulfil his ambition of 'building the world's most ambitious creative department.'
Leonard is one of the Sunday Times' 500 most influential people in the UK, sits on the D&AD Board of Trustees, has been voted into The Hospital Club's hClub 100 - celebrating the most influential and innovative people working across Britain's creative industries in the past 12 months - is a juror at the industry's most respected award shows and has spoken at key events such as CEW, IPA and SXSW. He was most recently published in Campaign magazine with Good is the new sex, an article on the power of 'ideas that do good' to go viral.
He has a wife and three sons.