BEST TV
Winner: Short films rule. Getting all that shape and surprise and suspense into a short format is a challenge. The
St Kilda Film Festival
spot reminded me of all of that while nailing the challenge themselves. Add to that, they've done something good enough for film buffs as well as appealing to a broader audience.
Runner up:
Norwegian Stone Skipping Championships
. Yep, it's a thing, I googled it to be sure. Great reference to Norway's recent speight of submarine sightings and the best reveal of the bunch. We call it skimming here in NZ and it's a surefire way to gain lakeside cred, though perhaps not as life threatening as in Norway.
BEST PRINT
Winner:
Origen Organicos: Watermelon
. The geek in me loves the challenge of remembering the periodic table. The potential for tellerium in my watermelon, uranium in my lettuce and radium in my strawberries is enough to make me consider organics next time I shop. The thing I want to know is - how is all that shit getting in there?
Runner up: I learnt something new today, thanks to
Go Red For Women: Beyond The Breast
. A sweet graphic and a compelling comparison in a market very heavy with breast cancer awareness. So simple, it didn't need all of that copy.
BEST OUTDOOR
Winner:
Microsoft Posture scanner
. Selling a light computer as a health benefit is a smart strategy. A smart strategy brought to life in an engaging way, selling you the product in the moment when you're experiencing the negative of not having it.
No runners up sorry! Compared to the effectiveness of the posture scanner, nothing else felt like it would have made a genuine impact in the outdoor space.
BEST INTERACTIVE
Winner:
Snickers Hungerithm
. 'You're not you when you're hungry' is a killer global positioning but with that brings the pressure of keeping it fresh, all the while staying on the tongue and cheek wagon. Hungerithm has extended this positioning into a rich real-life moment. Taking the mickey out of online aggression, lightening the mood instantly and resulting in real sales. Love it. it's my favourite for the week!
Runner up:
Samsung Safety Screen Distance
leapt out at me (from a safe distance) because of the weekend just gone spent with my nieces and nephews... and their screens. Simple, super effective and fulfilling a real need. Can we program the cute little critter to promote better posture while viewing as well?
BEST RADIO
There are no winners for radio this week.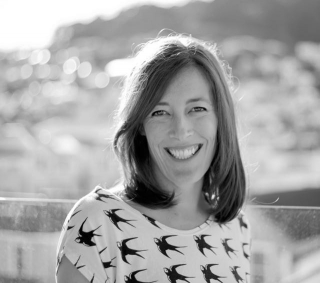 This week's guest judge is Brigid Alkema, executive creative director, Clemenger BBDO, Wellington, New Zealand.
A degree in Visual Communication got Brigid's beaten-up sneaker in the door at Clemenger BBDO Wellington in 2000 and she has barely left the building since. She dabbled in Sydney for a few years but ultimately realized her brain works better closer to the South Pole.
Despite her easy-going first impression, Brigid has strong beliefs about what creativity should be and has always used them to push the boundaries of behavior changing work. What she started earlier in her career with 'Ghost Chips', her team have continued with 'Blazed', 'Mistakes', 'Tinnyvision' and 'Hello', impacting culture by putting powerful words, images and Lionel Ritchie lyrics in people's mouths. When she can help people make better decisions through empowerment and truth, her beloved end of day beer tastes better.
As ECD of her house, she reconfigures the furniture twice weekly and purchases more contemporary art than the 90-square-metre bungalow in the bush has space for. She regards her rugged little sanctuary, home also to her husband and hound, as a critical contrast to her life on the frontlines.