BEST TV
Favourite: MLA "
Lamb Side Story
". In advertising, we often try to tap into politics, but clients rarely allow us to do so. So I admire this agency for pulling this one off. Not only does this video poke fun at our deep, political divide, but it also makes fun of itself. Which, I believe, is a good way to make consumers like your brand. Using a musical to highlight the clash between the two groups is a tongue-in-cheek way to set-up the problem, before revealing the one thing both sides can agree on: Australian lamb. While it's a very entertaining video, I would cut it down in length. It feels a bit too long for consumers who tend to "skip" whenever possible.
Runner-up: OTTO/HP "
Father and son
". Naturally weaving a product benefit into a story isn't easy, but this video does so beautifully. This is a really irreverent way to serve up an HP laptop by leveraging a well-known YouTuber. The video surprised me as it continued to build and get even more ridiculous. And the beat wasn't half bad either. The father and son's deadpan delivery made me smile. Well done.
BEST PRINT
Favourite:
Ikea pee ad
. I love this print ad. It stops you and quickly conveys its message in the most shocking way. I'm sure many consumers gave it a try. After all, who wouldn't want to piss on an ad? And giving expectant mothers a discount of baby furniture is a great way to drive traffic into the store. I predict this will win some awards.
Runner-up: Edimus Restaurant "
Wine Speed Date
". This well-executed, clever visual coveys: "wine speed dating" very quickly. A simple ad like this can be quite effective since most consumers will barely glance at an ad these days. You know you have a strong print visual when the idea is simple enough to be used in outdoor as well.
BEST OUTDOOR
Favourite: Bundesliga "
The Loyalty Test
". How much money will it take for a hardcore soccer fan to switch teams? Who wouldn't want to find out the answer to that question? Will fans take the bait? This is a really simple idea and a great way to to champion the loyalty of a Bundesliga fans. The torment is fun to watch as these fans are offered a free car and up to $200,000 to switch teams. It's a really fun, shareable idea.
Runner-up: Uber Canada/MADD "
Uber Mom
". A mom who lost a loved one to a drunk driver, picks you up at the bar in an Uber? That's a ride you won't forget. I suspect her story on the ride home would prevent any rider from driving impaired ever again. This partnership concept is as personal (and powerful) as it gets.
BEST INTERACTIVE
Favourite: Plan International Finland "
Sheboard
". Having a daughter, this idea really hit home with me. Using predictive text technology to help people choose their words more carefully, is a wonderful way to leverage this technology. The Sheboard is a simple, useful tool designed to help us rethink how we communicate with girls and women. While many technology companies claim to be making the world a better place, this idea is actually delivering on that promise.
Runner-up: Shine on Sierra Scroll "
9 Mile Scroll
". This idea puts users in the shoes of the children in Sierra Leone. No child should have to walk nine miles to get to school, and this interactive experience gives you a taste of what that feels like - by forcing you to scroll thru the site for nine painful miles. This demonstration instantly creates empathy (and donations) for the children of Sierra leone. Love it.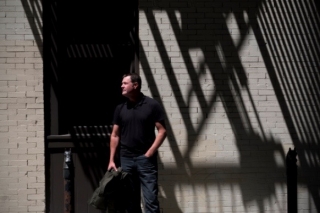 This week's guest judge is Mike McKay, partner and chief creative officer, Eleven Inc. in San Francisco.
Mike McKay is the chief creative officer at Eleven Inc., and with over 20 years experience in the advertising industry in San Francisco, Mike is a creative veteran who shepherds Eleven's teams in producing groundbreaking work for challenger brands who are looking to keep with the speed and elasticity of Silicon Valley. Some of Eleven's clients include: Apple, Virgin America, Oakley, Julep, Dignity Health and Aria.
Recent successes include the creation of Oakley's new brand tagline and global campaign "One Obsession" and a new partnership with startup Lyft on creating their first-ever marketing campaign, "Driving You Happy." This year, Eleven was also awarded for their work on Virgin America's 2014 Blah Airlines campaign at the One Show with 2 Silver One Show Pencils, a Bronze Pencil, and a Merit Award. The campaign was noted as YouTube's longest pre-roll advertisement at almost 6 hours long with over 800,000 views. In 2015, the work was also shortlisted at Cannes in 4 categories including Cyber, Media and Branded Content.
Prior to Eleven, Mike was an ECD at Saatchi and Saatchi, BBDO and was also a creative director at Goodby, Silverstein & Partners. There, his global integrated campaign for HP-"The Computer Is Personal Again"-was named U.S. Campaign of the Year by Advertising Age. His diverse portfolio includes work on brands such as Apple, Netflix, Sony PlayStation, Comcast, HP, Budweiser, Haagen-Dazs, and Nissan.
Over the years, Mike has created award-winning digital work for a wide range of clients. His "Stone skipping robot" for Sun Valley Resort allowed people from around the world to skip stones across a Sun Valley lake - from their computer. Not only was "skippy" featured on Reddit, it was recognised by the Effies for best single impact engagement. His Toyota "Swagger Wagon" video received over 12 million views and numerous industry awards and was recently recognised as one of YouTube's best advertisements of all time. And his "funniest tweet" contest for a staff writer position generated global press and thousands of hungry copywriter candidates.
Mike is an experienced judge and has been on the jury for The Effies, Digiday Awards and The Mashies.