BEST TV
My two choices for the TV category represent the two extremes of the category. The first is a long commercial with high production value and the second is low-budget and short. The first is inspiring and contains insight about life while the second shows product benefit with the smart use of a trend from the past.
Winner:
EDEKA: Eat Like the Person You Want To Be
. In this film all the components of a great commercial are combined: idea, script, directing, storytelling, photography, editing, music, casting and of course, brand relevance.
Runner-up:
Connect Internet in Lebanon: Ice Bucket Challenge Lebanon
. Simple, smart, brilliant – when we think we've seen it all in the world of fast internet comes this cool film that makes us wonder "how has no-one thought of this before?"
BEST PRINT
Personally I don't think this was a good week for international print. But I don't believe in not choosing at all.
Winner:
Spekko Rice: Wedding
. I like print ads that could also be a video ad. This ad shows the desire for rice in an original and humoristic way, it builds on a cultural insight from real life and shows that it's possible to sell rice in an easygoing and fun way to a young audience.
Runner-up:
Clenzo: Man
. Last night my youngest daughter asked me: "Dad, guess what the deadliest animal is?" I knew the answer: "mosquito", I answered her and she happily replied "that's right!" This ad reminds me of that conversation and the surprising message: sometimes the most unexpected thing can be the deadliest.
BEST OUTDOOR
Winner:
DB Export: Sand Made From Bottles, Not Beach
. For the second year running DB Export takes their marketing communication a step forward. Last year it was with their famous brewtroleum campaign and now they save beaches by turning bottles into a material that replaces sand. I don't judge projects of this kind from a rational perspective, from the ability to save the beaches, but through the perspective of creating an interest and conversation about the brand, standing out, and involvement.
Runner-up:
Air France: French Kiss & Ride
. I loved this simple and smart idea that romantically demonstrated the meaning of the time we save when checking in at a train station. Cool piece of content.
BEST INTERACTIVE
Winner:
MailChimp: Did You Mean MailChimp?
I spent almost an hour interacting with the beautiful elements of this campaign: this is the right way to introduce an unknown brand in the era we're in, this is the right way to talk to a new generation of managers and business owners.
Runner-up:
Mended Little Hearts: Give A Fuller Life
. We thought we've seen it all in the world of fundraising, so it's exciting to see a smart and innovative idea that takes advantage of digital capabilities in order to deliver a message and mainly to bring to action. This campaign shows the benefit of donations in a brilliant, touching and emotional way.
BEST RADIO
I love radio, it's a creatively challenging medium and, unlike print for example, that's being worn down by digital, radio is alive and kicking. Unfortunately, in most cases radio is used as a channel for hard selling messages... but those who know radio know that it's a great tool to build brands and deliver messages in unforgettable ways.
Winner:
Prime Television: MacGyvered
. Here's a great example of an original way to use radio that is connected to the essence of the product the spot has to sell. The result: an unusual and smart radio commercial that stands out in the radiophonic landscape.
Runner-up:
Commercial Radio Australia: Radio's Fair Share - Spotify
. A wonderful example of advertising as it should be: the thing itself wrapped in an amusing way that leads to effective and convincing advertising. Just like that, that's why we get up in the morning for.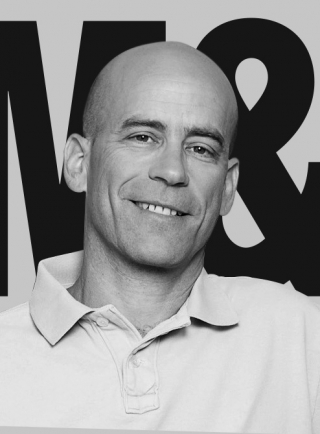 This week's guest judge is Tzur Golan, chief creative director and partner, M&C Saatchi, Tel Aviv, Israel.
Tzur Golan was born in Israel in 1969 and began his love story with the advertising world in 1994. While searching for a professional direction, he bumped into an advertising-school ad in a magazine. After two years of studies specializing in copywriting, he began to work for a small local agency.
In 1998, after winning several national awards, Tzur moved on to his next destination: Shalmor Avnon Amichay Y&R, Tel Aviv.
In 2002, he was promoted to creative group head, in 2006 he became creative director, in 2008 he was appointed as executive creative director and partner, and in 2011 he was appointed as chief creative director and invited to be part of Y&R worldwide creative board.
During his 14 years at Shalmor Avnon Amichay Y&R, the agency has been ranked Agency of the Year in Israel five times. In 2008, the Tel Aviv agency was named as Y&R Agency of the Year worldwide. Shalmor Avnon Amichay Y&R became Israel's most successful advertising agency abroad, winning second Media Agency of the Year at Cannes 2009 and ranked second PR Agency at Cannes 2011.
Today Tzur is chief creative director and partner at M&C Saatchi Tel-Aviv.
His resume includes some of the most prestigious awards, including 12 Cannes Lions, Grand Prix at the LIAA and Golden Drum, Gold's at Clio and many others including One Show, Eurobest, Epica, New York Festivals and Cresta.
Tzur has also served as a jury member at Festivals including: Clio, Eurobest, NYF, ADPRINT, Cresta and local competitions.