BEST TV
Winner: Apple TV+'s '
Call Me with Timothee Chalamet
'. Love this peek into the psyche of insecure Timothee Chalamet as he obsesses over all the great Apple TV+ series and movies he's not part of. This is a simple and entertaining way to show new, original content and elevate it to where an A-list actor is jealous of all the other actors on the platform. This is the third in the series, which proves how campaign-worthy the idea is.
Runner up: Tie between iPhone's '
A Day in the Life of an Average Person's Data
' and Correct the Internet's '
Correct the Internet
'. This was a tough choice. 'Correct the Internet' really shows the inherent bias in search results on the web in a simple, digestible way and makes you feel something. Still, the iPhone's 'A Day in the Life of an Average Person's Data' had me stopping throughout to update my phone settings, so I guess it works. It's packed with information but is also entertaining and has the fun casting of Nick Mohammed from Apple TV+'s Ted Lasso.
BEST PRINT
Winner:
50 years of Men Making Decisions Over Women's Bodies
. Like all great print, this stops you in your tracks. This is an old iconic ad remix, but unfortunately, it's just as relevant today. The addition of the male Supreme Court judges who helped overturn Roe v. Wade makes it particularly provocative. Will it change anyone's mind? Probably not. Will it piss some people off? Yep. Will it make you look at things from another perspective? Hopefully!
Runner-up: PAK'n SAVE's '
High Five
'. I'm not familiar with this supermarket, but clearly, New Zealanders are, and if you know the spokesperson is a stick figure, then showing his little hand doing a high five is a genius idea.
BEST OUTDOOR
Winner: Uber Eats' '
Long Disclaimer
'. There are many things you can't get with Uber Eats. However, you can get an outdoor ad that is funny, interesting, entertaining, fresh, introduces the idea of "new eyebrows", finds a way to use the words "cutie patootie", makes you ponder which past prime minister looks most like an old potato, questions the plural of ibises (or is it ibii?), includes a personal obsession with a guy named "Steven" ... yeah, I don't have time to write this, but I'm sure commuters had fun reading the ad. Congratulations, Uber Eats.
Runner-up: MIM's '
Feel the Race
'. It's rare to see obsessively crafted work. This is beautifully done, and it's really lovely to watch the video of artist Anwar Belaroui creating it.
BEST INTERACTIVE
Winner: Live Nation and Luger's '
The Shuffle Ticket
'. What an excellent idea. Scratch-its for concerts - how fun! This is beautifully designed and executed. I want some, if only I lived in Sweden, and they didn't sell out in minutes!
Runner-up: Menulog's '
Menulog Run & Win
'. How many people would love a pair of custom-designed 'Sushi Sneakers'? Everyone. Not to mention a year's supply of sushi, and a game made in partnership with TikTok! Yes, please - take my money and my vote.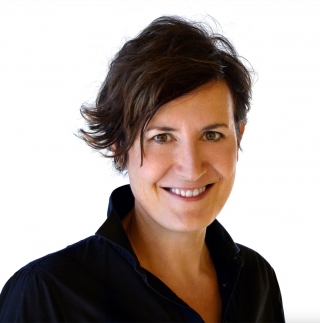 This week's guest judge is Linda Knight, chief creative officer and president at Observatory, one of Fast Company's Most Innovative Companies of 2020, 2021, and 2022.
Recognized as one of Business Insider's "30 Most Creative Women in Advertising" and 2022's "Adweek 50" list, Linda was one of the first international hires made by W+K and spent almost a decade working in the Portland and Amsterdam offices, predominantly on Nike.
She has succeeded in what has long been male-dominated categories, completing the "sports trifecta" - creating campaigns for the Super Bowl, the Olympics, and the World Cup.
In addition, Linda has won major creative and effectiveness awards, connecting brands and entertainment to make culturally relevant, impactful work that drives business results.