BEST TV
Favourite:
The Hornbach
spot is solid. The horror theme works and repeatedly coming back to the house kept the intrigue going for me. I wasn't sure where it was all going, and I like that in a spot. A little mystery goes a long way. Direction, casting and music all came together to make this memorable, and the reveal at the end to fix the crack with happy music was great. I'd like to see what else falls out of that dude. Glass or asbestos would be nice.
Runner-up:
Astral
. Maybe I'm naive, but I figured the guy just got beat up. He did, but it was the doors doing the beating. I'm pretty sure we've all had a door shut in our face, or at least heard "no" a million times. I think the casting is great and the door montage was funny. I think there was too much talking in the beginning but the payoff was nice.
BEST PRINT
Favourite:
Actal
is my favorite here. Maybe it's because I have a soft spot for muppets and puppets and marionettes. This ad works for me. It's clever, visual, simple and I dig the tagline. I wonder if they made a TV spot out of this. I'd watch that too. I'd probably watch a series, but again, I'm a sucker for muppets. Good job making stomach stuff fun and not gross.
Runner-up:
VW
. Yes, it's simple and lovely and smart. Most VW print ads are. I do love how neatly the visual brings "compact off-road" together. Drive under a giraffe.
BEST OUTDOOR
Favourite:
Raising the Roof
is amazing. What I love the most is that it's a powerful idea that didn't rely at all on showing the homeless. It put us in their shoes and lives instead. It gave us facts and stories and hope and that's what we need in the world. It's not about pity or sympathy. It's about information and then asking, "what would you do if you were in their place?" I wish I could have experienced this. Good job.
Runner-up:
Secretaria de Saude de Pernambuco
. The blood poster is what it is, and I was actually expecting the ink to be blood. But it's not. They did something way cooler. They made it a double heart hourglass, and you could rotate the poster so the blood would drain out of one heart and into the other. Time is running out and blood donations are needed. It's interactive, effective and creative. I just hope they didn't use too much blood. Maybe it was from another animal. Either way it's fresh and worth the minimal blood spilled.
BEST INTERACTIVE
Favourite:
Lisbon City Hall
. Damn this is cool. Huge in scope, the street art is amazing and it hit a bunch of touch points online and offline. A website that catalogued Lisbon's street art since 1974, garbage trucks and recycle bins painted by street artists, painted cars with mini tours, all of that is cool. Makes me want to visit Lisbon, and that's the first time in my life I've said those words.
Runner-up:
Google
, because they know how to marry technology and creativity very well. Creating a place where that is the focus is great for anyone who wants to keep pushing and evolving. Thanks, Google! I also like your search engine.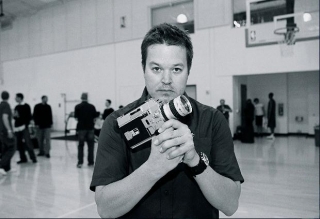 This week's guest judge is Brian Ford, co-founder and ECD, Zambezi, Los Angeles.
Brian co-founded Zambezi in 2006, after moving to Los Angeles from his home state of Oregon.
He was a 10-year Wieden Kennedy alum, with experience working on brands such as Nike, Miller High Life, Starbucks and Amazon.
While at W K, he was the brain behind some of Nike's most memorable campaigns, including 'The LeBrons' and 'We Are All Witnesses'.
Since starting Zambezi, he has worked with celebrity and athlete talent by the likes of Kobe Bryant, Kevin Durant, Steve Nash, Ashton Kutcher and Kate Upton (to name but a few), and most notably was the creator behind smartwater's 2011 viral sensation, 'Jen Aniston Sex Tape'.