BEST TV
Favourite: Case study films are the curse of our business. Made by the industry, for the industry awards shows, often fluffing ideas that real people never got to see or simply chose to ignore. That's what really tickled me about the
Shutterstock: The Best Bob In The World
. It contains all the cliches, self indulgence and protesting too much of a lazy case study film. The VO works well and, of course, it's all stock footage, proving you really can make anything up with Shutterstock.
Runner Up:
P&G Strong
is the latest film in the Proud Sponsors of Mum campaign. It's a big, brave idea and using the P&G umbrella is gutsy too. I love the line in this new film; 'it takes someone strong to make someone strong'. By the way, I was tempted to pick
Save the Children
but that's one of ours and so seemed a little uncharitable. It's an urgent and important cause though, so please take a look and text the number.
BEST PRINT
Favourite: If you're going to write an ad marking the passing of Prince, you'd better make it a good ad. I mean, a really good ad. That's exactly what the folks at
Chevrolet
have done. The headline plays back the lyrics of the great man, the addition of his life dates makes the whole thing more poignant and the art direction does its job beautifully, whilst managing to remain restrained. The ad reminds us in seconds of two things - how sad it is that this genius is gone and how great advertising is when it's done right.
Runner Up: For it's visual simplicity I quite liked the
Marie Rose
insect repellent ad, although I wonder how many DPS ads they're running currently.
BEST OUTDOOR
Favourite: The Turkish LGBT stunt
Gay Turtle
is a very nice piece of work. A pet shop salesman deals with customers who've come in to buy a turtle. When they pick their favourite, he casually drops into the conversation that the particular turtle they like is gay. The reactions are as immediate as they are disappointing. We see every customer begin to edge away from the purchase or ask for a 'normal' turtle. It's captured well with hidden cameras and the series of supers at the end land the whole point nicely.
Runner Up: Despite it having more than a whiff of Shutterstock about it ('a nation held its breath'????) I liked the simplicity of the
Duracell Achievements
idea. Let's hope it keeps on going and makes it into the real world.
BEST INTERACTIVE
Favourite:
Seabay
is neat partnership between ebay and The Australian Volunteer Coastguard. What I like about this idea is that the campaign used no media budget whatsoever and still managed to get prime time coverage and raise tens of thousands of dollars. It's not the most innovative idea but it's been seen and worked.
Runner Up:
Children of the Street Society
are targeting Instagram predators. The idea is a simple one and the use of the grid as a cell works well.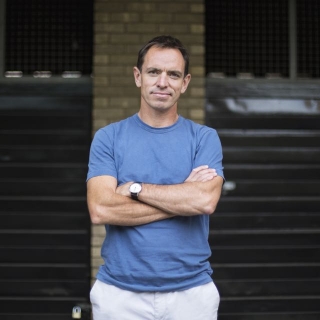 This week's guest judge is Ben Priest, chief creative officer, adam&eveBBDO, London.
Ben started his career at O&M in 1990, before going on to work at CDP, Lowe Howard-Spink and TBWA.
In 2004 he joined Rainey Kelly, teaming up with James Murphy and David Golding.
In 2008 the trio left to set up adam&eve.
Just two years later in 2010, the agency achieved an industry first, being named both Campaign and Marketing magazines' Creative Agency of the Year. In 2012 they won the coveted IPA Effectiveness Awards Grand Prix for their John Lewis work. Later that year adam&eve was acquired by Omnicom and merged with DDB London.
In 2014 adam&eveddb won four Grand Prix's, 7 Gold's and was crowned Agency of the Year at Cannes, for work on John Lewis, Harvey Nichols, Google and Marmite. Later that year they were also named Campaign magazine's Agency of the Year for the second time, as well as winning their second consecutive IPA Grand Prix, (this time for Foster's), and Agency of the Year at Eurobest, Epica, LIA, AdAge, British Arrows and Shots.
In 2015 the agency won Film Craft Grand Prix and Effectiveness Gold at Cannes for John Lewis. In December of that year adam&eveddb was named Campaign Magazine's Agency of the Year for the second year running.
Ben splits his time between London, Sussex and Selhurst Park.