BEST TV
This category was an emotional roller coaster. Straight off the bat, my consolation prize goes to the
Don't Drink And Drive - Celebration
ad. A juxtaposing mix of tone and message, executed with so much realism and brilliance. But, the epic scale and emotional storytelling of the two supermarket ads took the medium to an entirely different level. Whether it was tears or laughter, the cinematic quality and entertaining narrative of each was truly captivating, so much so that the link to the supermarkets at the end was a little rough. (In saying that, I was impressed with how far supermarket advertising has come). In the end, it was the
Sainsbury's
commercial that won me over. The documentary sensibility and intensive research that went into pulling this off as authentically as 1914 was impressive, and I felt proud that the advertising world is the one to bring this kind of story with the world.
Runner up:
ALDI Australia: Specially Selected for the Perfect Aussie Christmas
. So many good Aussie gags in here. Amazing direction.
BEST PRINT
Oh wee this was a tough one to select a winner. Although nicely executed this week's selection relied too heavily on visual gags, with little to no unique insight or brand truth behind them. The ads felt one-dimensional; I wanted to laugh or, at least, nod my head, but instead I was left feeling a little empty. Sorry, no winner here.
BEST OUTDOOR
Having done a bunch of TV advertising in my time, the
Glamazon
billboard was economical and witty - an easy first place in this category. Nice twist on the supplied promotional photography and Beckham mockery embedded in there. Second runner up was the
Ikea Blind Kitchen
. Memorable idea...execution video was soft, could have been more impact around the reveal of the conceit.
BEST INTERACTIVE
Wow a lot of good stuff in here. Once again really good to see so much emotion and storytelling coming through. The
NZ Defense Force Fit
video made me laugh. But the
Wall of Sound
experience deserves a standing ovation. The depth of archive exploration, historical storytelling and emotional resonance of this experience truly transcended advertising. Once again so proud that the advertising world brings these kinds of experiences to the world. Second runner up is the
universal typeface
; really great insight and useful tool for the world to share.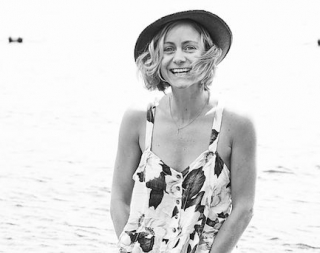 This week's guest judge is Stacey Lee, an independent creative director, director, producer and writer, who splits her time between New Zealand and New York.
Born in Tauranga, New Zealand, Stacey has carved out a creative career across 3 continents over the last decade. Beginning as a young writer in Auckland, to a filmmaker in Amsterdam, to a creative director in New York and now finally a director and producer across all three.
To date, she has produced award winning commercial and editorial content for international clients including: VICE, adidas, Absolut, Beats by Dre, Levi's, Intel, Smirnoff, Ray-Ban, Spotify, Tanqueray, Red Bull Music Academy, NBC, Microsoft, Visa, Toyota, Sony and MTV.
Her work has been awarded at Cannes, Clio, AWARD (Australia), Tomorrow Awards, Young Guns, Axis, Art Director's Club Berlin, FWA Awards, European Ad Print Awards and Published in the D&AD book.
In 2011, her documentary One Fire Ignites Another won Best Music Documentary at the New York Independent Film Festival.
She currently splits her time between New Zealand and New York, and is in development on a TV series and a short documentary.