BEST TV
First Prize TV: Well this was a bitterly boring round for television. We were under the impression we'd be judging six brilliant spots from around the world, but instead we were given six ads that were all for the American detergent brand,
Tide
. How terribly depressing. Not only for us, but for you, the men and women at home who, until moments ago, were expecting to be inspired by the incredible array of commercials being produced around the world, which have been consistently delivered to you in a digestible format once a week on a Tuesday, or sometimes Wednesday, for several years. On behalf of Best Ads, we sincerely apologise for this blatant and embarrassing display of preferentialism and hope order is restored this time next week.
Second Prize TV: This spot earns second-place honors for how well it integrated Tide with the classic game of
Pictionary
. We really didn't see the Tide partnership coming with this one and, to be honest, were a little surprised Tide chose such a niche product tie-in. Yet, the clean clothes in every beautiful shot don't lie, it's most definitely a Tide ad. A tip for Team Tide: consider choosing a game that people are more familiar with next time. For example, and we're freestyling here, 'Test Match Cricket - The Tabletop Game For Up to 11 players'. It would have tested well in several markets and presented interesting product demonstration opportunities with cricket whites. Anyway, food for thought Team Tide.
BEST PRINT
First Prize Print: This is getting ridiculous. Yes, it's a very powerful image that anyone, regardless of their language, can understand. Yes, it distills an incredibly important message into a call to action that could actually
motivate people to check the safety of their fire alarms
. But it's still a Tide ad.
BEST RADIO
First Prize Radio: Surprisingly there was no Tide detergent integration with this lovely
HRV Solar radio spot
. It begins by luring the listener in with a stirring voice over and then suddenly surprises with a cheeky joke about cleaning one's teeth. Whoa, hold up! Did you hear that? Cleaning. Clea-ning. Cleaning your teeth requires a toothbrush. Toothbrushes have thistles. Toothpaste goes on top of thistles. Toothpaste is like detergent for your teeth! Touche, Team Tide, touche indeed.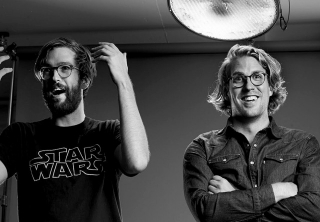 This week's guest judges are Alex Little and Karsten Jurkschat, associate creative directors at McCann, New York.
Alex and Karsten met on a weird, creative version of a blind date where awkwardness was exchanged, followed by numbers.
After working independently at several Melbourne agencies, they teamed up at Ogilvy where their work for the country's largest insurance company, AAMI, led to seven awards at the 2017 Cannes International Festival of Creativity, including a Gold Lion in the Creative Data category. More recently, their work was recognised with several Clios in the Innovation, Product Design, and Digital/Mobile App categories, as well as a D&AD Impact pencil.
At Ogilvy, Jurkschat and Little helped lead new business wins on Cadbury and Mondelez, while their digital campaign for AAMI was key in propelling the agency to #3 Innovation Agency of the Year on the Cannes Lion Global Creativity Report 2017.
The pair were named Australia's Young Creatives of the Year by the Association for Data-Driven Marketing & Advertising (ADMA) in 2015 and, last year, Australia's Cannes Young Lion winners.
They are currently associate creative directors at McCann, New York where they are spearheading the revolutionary new movement of living in Brooklyn and riding a bike to work.