BEST TV
Winner:
Hornbach Sweat it Out
. This ad begins less like an ad and more like a subversive short film. I squirmed my way through the scenes, as I was confronted by deeply unlikeable characters and visual textures that provoked an almost gag effect. All the while I was wondering where I was going to end up. And then all of a sudden, there it was, the pay-off of an exquisitely grotesque bead of sweat complete with dirt swirling inside of it that eloquently delivered the message. Disconnect from the horrible world inside your device and get sweating in your backyard with Hornbach. I can't say I enjoyed this ad, but I sure as hell appreciate it and it's now stuck firmly in my mind.
Runner-up:
iPhoneX Unlock
. In complete contrast, it's was hard to go past 'unlock', a joyful piece of communication which appeals to my basic human attraction to fun. But what appeals to my 'ad' side, is what consistently makes ads great... simplicity and single mindedness. From the very start you understand exactly what's going on and why, but more importantly it's entertaining, and I was left wondering why it hadn't been done before.
BEST PRINT
Winner:
SABADO Magazine: ALIEN Partners Lisboa
. What makes this such great print for me is its striking, original visual for the message it's conveying and how it so elegantly delivers the same intelligent style of humour associated with the great man himself.
Runner-up:
WWF Burning Elephant LOTUS:H
. This is a simply stunning print ad that has obviously been crafted within an inch of its life. It's a work of art. You feel all of the textures of the burnt trees and then you are rewarded with the reveal. It's a beautiful and haunting image.
BEST OUTDOOR
Winner:
Handicap International
. To take famous cultural landmarks use them to communicate your cause without feeling like your campaign is disturbing the art in any way, is a true feat. The concept was landed so clearly and it was easy for the public to understand what they needed to do to contribute to the campaign. Put simply, this is a brilliant idea with deep cultural resonance and flawless execution.
Runner-up:
Look Again LA
. The real beauty of this idea is in its execution. The style appropriation road signage gives an instant credibility and gravity to the message, allowing it to infiltrate the community without feeling like an advertising stunt or campaign. Brilliant.
BEST INTERACTIVE
Winner:
Bulletproof Junior Vests
. At this moment in American culture this campaign is perfectly timed. It simply and powerfully conveys a brutal reminder that no one should ever have to be in the market for a product like this for their children or anyone else's either.
Runner-up:
The Hunger Project
. This idea plays beautifully on the way words are appropriated and given different meanings and how especially cringe-worthy it is when it's in a professional context. For me, it's that cringe factor that makes this idea really sticky. It's a great way in to a business audience (that may actually be able to afford a donation), in a way that can hold a mirror up to their innocent ignorance.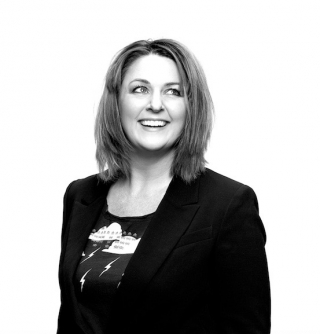 This week's judge is Sharon Edmondston, creative director, M&C Saatchi, Sydney.
Sharon's career has seen her work in such agencies as Junior, GCB Simon Richards, Leo Burnett and currently M&C Saatchi, and as creative director on accounts such as Samsung, Optus, Moccona, Jack Daniel's and Lexus.
A passionate advocate for diversity and equality, Sharon's outspoken articles, insights and ideas saw her launch 'Women & Creative' (or W&C,) an M&C initiative created to tackle gender inequality and affect change within advertising, both inside the agency and out, at the inaugural Australian 3% conference last year.
On International Women's Day, she introduced some of the most talented young female directors to members of the advertising production and creative community. The event launched the 'Free the Bid' register, a database of female directors, DOP's and editors that has already secured possible jobs for otherwise unknown talent.
But at the end of the day, Sharon's all about the work. And her keen eye and sharp mind have seen her pick up metal in every major award show, showing that a woman can thrive (and indeed change) a male-dominated industry and run some of the biggest blue chip clients in the country at the same time.
She truly is one tough mother (of two.)