BEST TV
Winner: Skittle Dips '
Yogurt Boy
'. Some pretty BIG ads here to choose from. Epic budgets, epic time lengths, epic casting. But for us, the most epic was just 40 seconds and a cast of three. We loved this spot, watched it five times and found something new to laugh at every time. Brilliantly cast, brilliantly directed and brilliantly original.
Client: "So my consumer is a spoilt, entitled, unlikeable brat, who has a lack of respect for his older employee and is mentally bullying him. My product is depicted by a grotesque, monstrous, wheezing abomination hidden in the cellar. And we are filming it in a very unnerving manner like The Shining. And you say this is going to be funny, and sell product?"
Brilliant clients, working with brilliant agencies get brilliant work.
Runner up: Australian Lamb '
Lambalytica
'. Fusing Cambridge Analytica with lamb is a tasty idea. But it would need more than mint sauce to have beaten Skittles.
BEST PRINT
Winner: Dr Martens '
Berlin Wall
'. Great brand with a great history. The creative manages to tell the story without the shoe being shoe horned in, and it's all the better for it. Well done.
Runner up: Nutristar '
Porcelain
'. The brief lands on your desk; it's not Skittles, Apple or Nike. The target audience aren't cool millennials or gen Z's, they are rural farmers. Tough brief, but the creative managed to solve it with a striking visual.
BEST OUTDOOR
Winner: McDonald's '
Big Mac
'. How the fuck did they manage to sell this concept without the brand logo? Very brave and makes the concept stand out, inviting people to decode the poster for themselves. And it's not a scam, we actually saw it on a poster site with our own eyes. Went straight to McDonald's and stuffed our faces with Filet O Fish. Some people question its originality, as it has been done before... but not without a logo.
No runner up.
BEST RADIO
Winner: Drinkwise '
www.PeteGotPissed.com.au
'. Most radio ads shout in your face and climax with a bombardment of legal drivel. What a shame, radio is such a great medium when done right. And this commercial is done right. Made us genuinely laugh and go back for a second and third listen.
Runner up: Slingshot '
Choose The Deal And The Voice: Mr Freeman
'. Using a Morgan Freeman sound-alike to read out your commercial jargon is a sure way to get people to listen. All wrapped up in a simple idea. We're looking forward to hearing the Sean Connery version.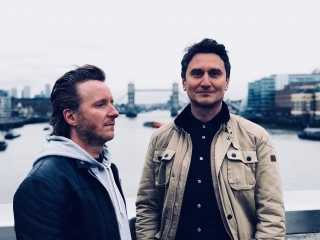 This week's guest judges are Adam Chiappe (right) and Matt Saunby (left), creative founders of new agency 2050 London.
They believe that challenging ideas can help future facing brands change the world. The 2050 agency philosophy is 'Ideas Change Things'.
Originally both hailing from the north of England (Adam-Huddersfield. Saunby-Grimsby), they first met at Central St Martins college of Art and Design in 1996, where we both graduated with BA Hons in graphic design.
Since being offered a work placement by Sir John Hegarty at their final degree show, their careers in advertising were set. They've produced famous, award winning work on some of the best brands in the world at some of the best agencies, BBH, GREY, MCBD, TBWA, AMVBBDO and Saatchi & Saatchi. Some of their awards include Cannes Gold Lions for Levi's and Xbox, D&AD pencils for Audi & Rekorderlig, as well as British Television Gold Arrows for Lynx and One Show Silvers for Nissan.
Going forward they want to carry on developing work that actions their agencies future facing vision to build inspiring brands for generations to come.