BEST TV
Winner: Renault '
Renault The Shop
'. In this competition, France is the champion! Charming and beautiful crafted masterpiece with a simple and positive message behind it. It is very well told, and contains many details that made me watch it several times. And all closed with an impeccable tagline!
Runner-up: Dutch State Lottery '
Don't wait for happiness
'. In times where the old, or what is no longer new, is despised and discarded, a brand appears that returns to what is important to tell an inspiring and positive story, reinforcing in a genuine way, and not because of fashion or social pressure. the value of the relationship and bond between a son and his father in old age.
I would love to see more work like this, considering the power and impact and influence that advertising has, especially on the youths. It deserves to be highlights, shared and awarded! Very good work!
BEST PRINT
This time, the selection has not surprised me. They are ads, very boring in general, complicated, very difficult to read and super redundant. To be honest, I think print shouldn't have winners this time. We must inspire and raise the level, therefore, here it would not be fair to reward someone.
However, just in case you choose some... (below my options)
Winner: Sherry Fitzgerald '
Ireland is our home
'. I think this work is the one that works the most as print, among all of them.
However, it is definitely not a fresh idea, it has been used a lot. We can already see how he was in last week's selection Pycca Store '
Think Soccer Live Soccer
' (and I've seen him many other times).
Runner-up: Child '
Listen to Nature
'. Only in terms of graphics and visual impact, but nothing new behind the idea. This graphic resource is widely used. Maybe it's just a coincidence... ;)
BEST OUTDOOR
Winner:
VOSKER
. Although technology evolves daily creating new ways of working and improving the impact of this medium, without a good idea, it is useless. For this reason, I find this piece a great example that makes use of outdoor works perfect in the traditional way. It is simple and effective - especially considering the short reading time the message is exposed to, it has some humor, which makes it memorable, and it transforms the medium into the message, making it even more integrated and strong.
It seems very positive to me to continue seeing brands that bet on this medium in a traditional way, without large budgets or resources, but with an idea that is simple and clear enough to listen and stand out. I think you have to lose that fear and tendency that if there are no fireworks or technology behind it, it doesn't work. A good idea, and well executed always works, regardless of technology. Even Sometimes even the technology disturb.
Runner-up: Miller Lite '
Open VAR
'. When we see so many brands that try to change their identity, values, principles, to become fashionable or to get more adherents and thus be more popular and be recognized as close (which ultimately, being forced and inauthentic, play a role against it), Miller Lite, comes out with this simple idea that is totally based on his style, very authentic, organic and integrated, and based on an idea that all football fans know and have experienced at some point!
I highlight the coherence between the brand, the idea and the message! Very integrated! That without changing its values, it generates noise and closeness with its audience. I loved it!
BEST INTERACTIVE
Winner: Coca-Cola/Buffalo Wings '
The Billboard Label
'. A special way to entertain football fans and not-so-fans (...but Buffalo Wings fans). While one is attentive to the match, another is attentive to scanning the logo/label. Very interactive, no doubts about it.
I just felt it a bit too direct - IMHO, but it works and fits well, and it's 100% Coca Cola style. We already see how a "promo" can also build and add value to the brand!
Runner-up: Coca-Cola '
Magic Coca-Cola Audios
'. Once again, we see how a brand like Coca Cola, year after year, surprises us with details, and I mean that having such a consistent and perhaps repetitive message for years, it always finds a way to make it feel like something new. Always communicate the same thing, but always in a different way, and thus reinforce and rejuvenate the brand! There's the magic! Even more so if it is at Christmas, where we all expect something special from the brands, a spark of inspiration, a positive message or a lovely family reunion, and to connect with all our loved ones in this holiday that is so important to the whole world!
BEST RADIO
There are no winners this time.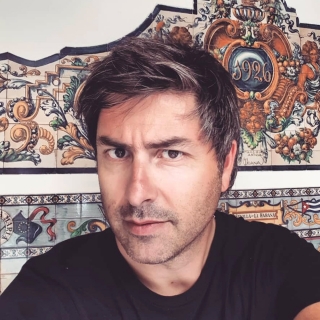 This week's guest judge is Juan Pablo Valencia, regional creative advisor, FCB Artgroup (TICCA Region - Turkey, Iran, Caucasus & Central Asia), Kazakhstan.
Juan Pablo Valencia, is originally from Chile, with Art Direction, Copywriting and Strategic skills.
He has been working approximately 20 years for brands like Procter & Gamble, Nestle, Mars, Samsung, Unilever, Pepsico, Beeline, and many others, as an Art Director, Creative Group Head, Creative Director, Executive Creative Director, and Regional Creative Director & Advisor, in Chile (BBDO and other agencies), Russia (BBDO and Contrapunto) and in the Central Asia and Caucasus region (TBWA, CHEIL and FCB).
He has earned more than 200 awards and honors at different international festivals like Clio Healthcare, Epica Awards, Golden Drum, AD Stars, PIAF, Red Apple, Golden Hammer, KIAF, AD Black Sea, Creativity Awards, White Square, IDEA, Popok, ADCR, Best of Central Asia & Caucasus, and National Diploma at Cannes Lions, becoming the most awarded Creative Director in the whole region, and in addition of been during several times in a row "agency of the year" throughout the Central Asia region.
His works has been published in numerous advertising magazines and books like Luerzer's Archive, Communication Arts, Epica Book, Epica Brand Tribute (Samsung), Creativity Annual Awards and many others.
He is currently at the top #11 as Copywriter and #30 as Art Director in the world at the prestigious magazine Luerzer's Archive during the last 10 years.
In 2018 he reached the top #1 in the world from Bestadsontv.com as a Creative (Copywriter/Art Director).
He has been jury around 50 times at many local, regional and international advertising festivals like:
D&AD New Blood, The One Show, LIA Awards, New York Festivals, AD Stars, Cresta Awards, Golden Drum, Lisbon, Creativity Awards, The Bowery Awards, SeeHer, WINA, Mobius Awards, SIA, PHNX Tribute, Luum Awards, Care Awards, White Square, KIAF, Young Lions, Popok, One Eyeland Photography Awards, and others from Central Asia region.
Currently he is Regional Creative Advisor for FCB Artgroup.