BEST TV
Winner: Google Pixel 4:
Lost in The Countryside
. I don't know who those English guys are (famous in the UK I'm sure) but they kept me entertained through an entire product demo.
Well shot, written and acted with a simple idea that's very campaignable - this could be a template for an ongoing series with other cameos.
While clearly a scripted storyline, you could feel some nice adlib moments and a genuine connection between the two lads, which added some charm.
I'd want to use Google Assistant to get the hell out of that freezing drizzle, too.
Runner-up: Lurpak:
Where There Are Cooks
. They could've talked about butter but instead they championed cooks and made them look like heroes. This ad takes a manifesto and elevates it to a dramatic place.
Great craft. It's shot beautifully with amazing lighting. I feel like I'm watching a European painting come to life with the rays of light illuminating different parts of the scenes. Lets not forget the great score, "Yum" is the perfect finale.
Now I want some bloody pancakes. Thanks a lot, Lurpak.
BEST PRINT
Winner: The Hindu:
Meet the Dumbest Creature on The Planet
. This provocative ad highlights the stupidity of people by talking about the stupidity of a turtle. It captures our arrogance in the face of environmental destruction. It's a very different voice to the one we usually hear in such messages. Nice writing.
Runner-up: Sport England:
Rallying Cry
. Nice mantra. There's some really compelling writing here, especially the second half. In fact, you could probably start with the pledge "I will not apologize for..." and go from there. It might be even more powerful. I look forward to seeing where "This Girl Can" goes.
BEST OUTDOOR
Winner: Women and Men Progressive Movement Foundation:
The Daily Fight
. I'm sure it's hard to find a way to speak to men about this issue and make them feel it. This is a violent and visceral way to get the message across to a group of men expecting a different kind of fight. I'm sure they felt every punch. I wish one or two of them had jumped in to save the girl though!! Regardless, a really great idea!
Runner-up: KFC Australia:
Michelin Impossible
. This is so Aussie. I love it. A KFC in Alice Springs is the last place on earth you would ever find a Michelin star. Love the French man who feeds it to his dogs, the snake in a bucket and the sauce guy.
I'm rooting for you Bryan-Brown-looking-dude from Alice Springs, maybe next year.
BEST INTERACTIVE
Winner: Apple:
A One Take Journey Through Russia's Iconic Museum
. Beautiful and smart. This is an interesting, watchable way to showcase long battery life. They found an epic place to do it so the film looks amazing. It's Apple so it will always be perfectly crafted. Even the case study is a small work of art.
Runner-up: Betty Crocker:
The Boy Who Changed Betty Crocker
. I was torn between this and
Truth Finds a Way
. It's so nice when our industry can do something good and make even a small difference in the world. Both of these ideas did that. Often the idea is right under your nose. It just needs to be pointed out. A little boy spoke up and the brand stepped up and followed through. Kudos. Hope it will help change things. Now make me a cake.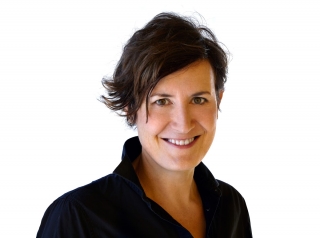 This week's guest judge is Linda Knight, CCO of Observatory, a Stagwell and CAA company, helping brands resonate in popular culture. Recognized as one of Business Insider's "30 Most Creative Women in Advertising," she spent her formative years at Wieden+Kennedy.
Linda has succeeded in what has long been male-dominated categories, completing the "sports trifecta" with campaigns for the Super Bowl, the Olympics and the World Cup. She also produced platforms dedicated to inspiring young women for Nike, adidas, Gatorade and The GRAMMYs.
Linda has leveraged technology, entertainment and pop culture to create things people want to engage with; drones, binge candles, augmented reality experiences and a World Cup football filled with cameras.
Previously, Linda was CCO of Phenomenon, working with clients including DC Universe, Warner Bros., HBO Max, Pepsi and Quibi. She grew production capabilities, creating in-house content and overseeing the design and products and services departments.
Prior to that, Linda spent three years as executive creative director at TBWAChiatDay, Los Angeles, where she produced award-winning creative work for clients including Intel, Uniqlo, The GRAMMYs, Netflix, Peak Games, Nissan and Quickbooks.
Born in Australia, Linda was one of the first international hires made by Wieden+Kennedy and spent almost a decade working in the Portland and Amsterdam offices, predominantly on Nike.
Linda has won major creative and effectiveness awards, using her expertise in running teams to "crack" a problem with a big, simple idea that can play in any medium, from advertising to experiential and new technology.